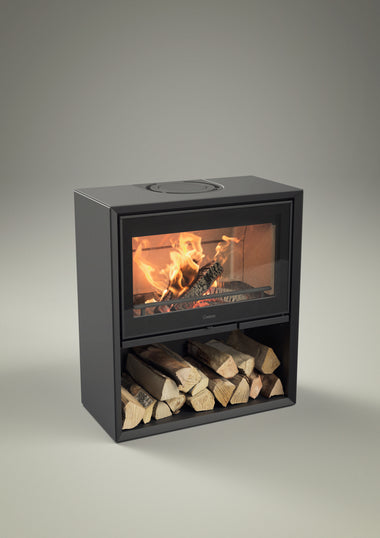 Contura 310 Stove
From £2,345.00
Contura 310 : The Contura 300 is the perfect choice if you know how you want your stove to look. Contura 310 is available in black with a cast-iron door. Do you want a log box? You have a choice of three. What about a drawer or other smart accessory?
Contura 310G : The generous glass door frames your fire beautifully. The door strikes a modern note and opens easily with a handle that doesn't get hot. The Contura 310G is available in black or white and can be combined with matching, freestanding log storage.
Functions :
Log compartment: A practical compartment under the stove which keeps the logs in order.
Long logs : Due to the size of the insert it is possible to light a fire using logs up to 50 cm. This gives you a large and attractive fire that burns for longer.
Cast iron door : In order to resist the stresses that arise with the large temperature variations, the door must be made from shape-retaining cast iron.
Simple to use : Contura products are equipped with a single control for exact output regulation, which allows simple and precise combustion control.
Clean Burning System : In the rear of the stove there is an extra duct system for spreading preheated combustion air. The system is called Clean Burning and is activated by sliding the control on the front to the left. The stove burns efficiently and for long periods resulting in a combustion with very low particle concentrations.
Technical Details
Height : 850 mm
Width : 750 mm
Depth : 375 mm
Net weight : 130 kg 
System efficiency class room heating : A
Maximum log length : 50 cm
Maximum heating area : 120 m² 
Output : 7 kW 
Efficiency

 

: 77% 
expand_less
expand_more
Customer Reviews