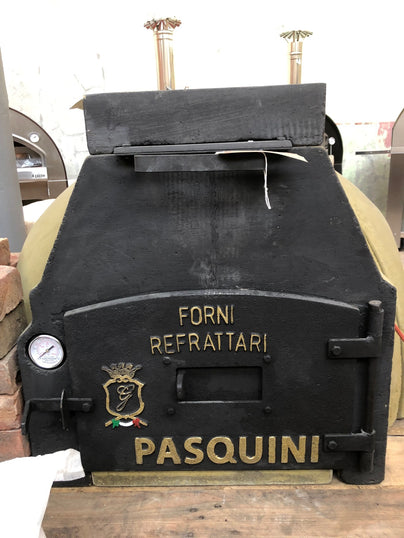 PASQUINI OVENS | Forni Refrattori Pasquini - Geometrical 70
£1,140.00

These ovens are built entirely with refractory materials to guarantee unlimited durability over time. Forni Pasquini relies on the long term experience of its staff that specialise in the design and production of these professional ovens. They are supplied in kit form to build wherever you desire.


The special materials eliminate the unpleasant drawbacks typical of ovens produced with expanded clay (for example the crumbling and falling of small particles on to the food being cooked). Made from refractory bricks that guarantee resistance and durability in the entire structure being subject to high temperatures.

The door is in cast iron with an observation peephole that allows easy cooking control.

With a little wood you can heat the oven and prepare it for cooking, you will get great economy, maximum cleanliness, perfect cooking.
These ovens can be installed anywhere, they are suitable for rustic environments, near fireplaces and in the garden.

They are unsurpassable for cooking pizzas, breads, desserts, roasts.

ALL the ovens are equipped with internal light at high temperatures. The geometric oven has a square shaped cooking surface allowing you to use pans, while the hood has a cast iron valve for the release of any fumes.

The refractory pizza ovens are designed and made of special refractory material to allow for fast cooking of pizzas and to keep the pH of the dough at the optimal value. The materials limit the unpleasant odour of smoke, leaving the essences emitted from combusted wood enriching the flavour and the characteristic smell of the pizzas contributing to its originality.

The uniform cooking surface allows a perfect shaving of coal ash, avoiding residues on products unlike traditional brick ovens.

Having cast iron in the hob ensures optimal heat reservation avoiding energy losses.
Dimensions:
Internal dimensions - 70 x 70cm
External dimensions - 82 x 95cm
Weight - 300kg
expand_less
expand_more
Customer Reviews