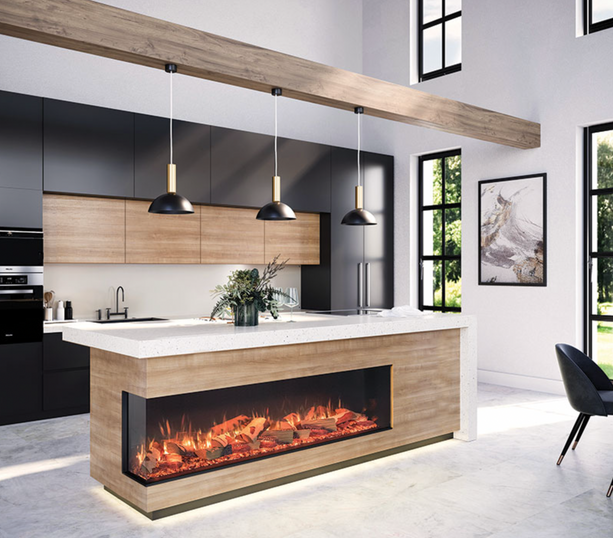 Gazco Onyx Avanti 190RW LED Electric Fire
Now £2,600.00
Save £295.00
1 IN STOCK
Contact us now:  01484 866785
Onyx Avanti electric fires are designed to work with your style and interior décor. Available in three sizes, each can be configured in a variety of ways to create a statement focal point in your home. All Avanti fires can be installed as either a single-sided, two-sided corner or three-sided electric fire to suit your living space.
Avanti Electric Fires
Features
Can be installed as a one, two or three-sided fire
Chromalight® Plus Designer LED System
Multiple flame options with adjustable flame speed
Range of lighting systems and effects
True-to-life Split Oak or optional Split Silver Birch glowing fuel-effects
Up to 2kW thermostatic heating
Flames can be enjoyed with or without the heat
Remote control via app or handset
Optional Mood Lighting System
Flat-wall-fix possible for Avanti 110RW with Milazzo Suite
Ecodesign Energy Saving Features
A
choice

of true-to-life logs with glowing ember

Every tiny detail and texture of the Avanti's choice of log effects has been meticulously replicated from oak and silver birch, gathered from nearby our Devon laboratories. Each log rests on a glowing ember bed, composed of ash-dusted blackened glass and lava rock chippings.

The Avanti electric fire range features a Split Oak log effect set that can be easily switched at any time for the optional Split Silver Birch log set, giving your electric fire its own bespoke character.
Hidden

log lighting system

To capture the life and soul of a wood fire, specially designed Burnt Ember Logs house hidden lighting systems, casting a natural, ever-changing glow on the Avanti's larger split oak or silver birch logs to simulate real burning wood.
Optional

mood lighting

Your Avanti electric fire can be upgraded with powerful mood lighting systems to create additional ambience in your home. Up to 6 metres of flexible LED strips can be installed around a TV or along shelves to enhance your electric fire's glow, and are controllable with either the Avanti app or handset




Measurement Information:

 
You can also call us on 01484 866785 for more details.
expand_less
expand_more
Customer Reviews