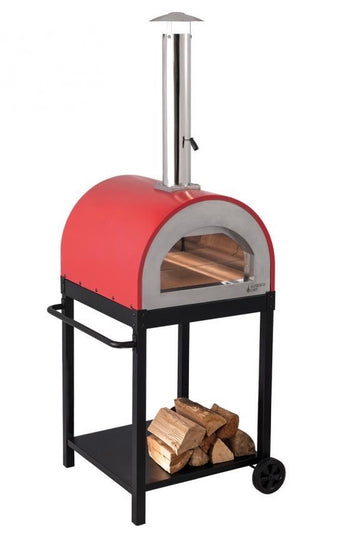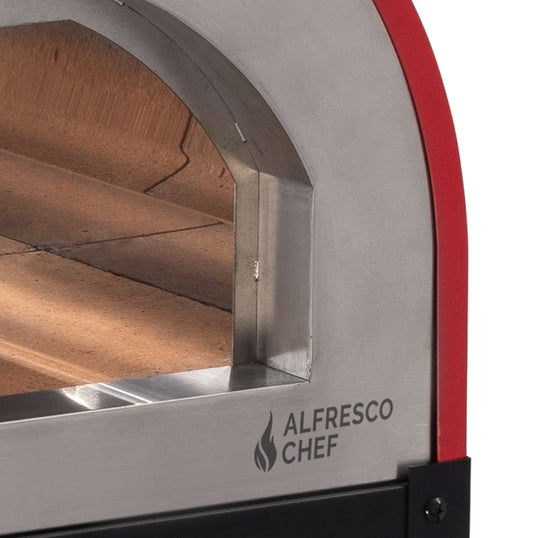 Naples Wood Fired Outdoor Pizza Oven by Alfresco Chef
£650.00
IN STOCK
Free Shipping!
Free Starter Fuel Pack
The Alfresco Chef Naples oven offers the perfect introduction to authentic wood fired cooking. It gives would-be chefs, party hosts and their guests the unique experience and flavours of wood fired food.
Oven Cover also available for this product. 
The Naples oven is fun, easy to use and highly versatile: it's great for the pizza enthusiast who wants a fuller flavour, but can also be used to barbecue, bake or roast your specially prepared dishes. With a Naples oven, your food will be packed with delicious wood-fired flavour.
The Naples wood fired oven has been designed to be compact and make best use of space.  With a small footprint, it's the ideal outdoor oven for households with limited space.
This multi-purpose oven is built with 5cm ceramic fibre insulation and 3cm thick fire brick floor tiles.  That means it can quickly reach a temperature of 400°C within 15 minutes, maintaining its heat consistently so you get great results from your wood fired cooking.
With clever positioning of the oven door and your kiln dried hardwood fuel, you can use the oven to perform a variety of different cooking methods.
Features include:
Mobile stand for greater stability and easy storage
Flat base for safe, easy mounting on heat-proof outdoor kitchen surfaces
Spacious 60cm x 55cm cooking floor size
Assemble manual and user guide.
The oven is super easy to light.  All you need is one of our Woodson fire lighters and kiln dried hardwood.  Our user guide shows you how to get your oven safely and efficiently lit.  It's also really easy to manage and use with our pizza peel set.
Maintenance is really simple too.  You can quickly clean your oven by brushing the fire brick tiles down with our stainless steel brush and wiping down the exterior with oven cleaner.
The oven also comes with a base shelf for wood storage, so you can keep your wood close at hand when using it.
Browse our Alfresco Chef Accessories 
Make pizza night a fun experience and let your mini pizza chef take charge of the kitchen!
expand_less
expand_more
Customer Reviews