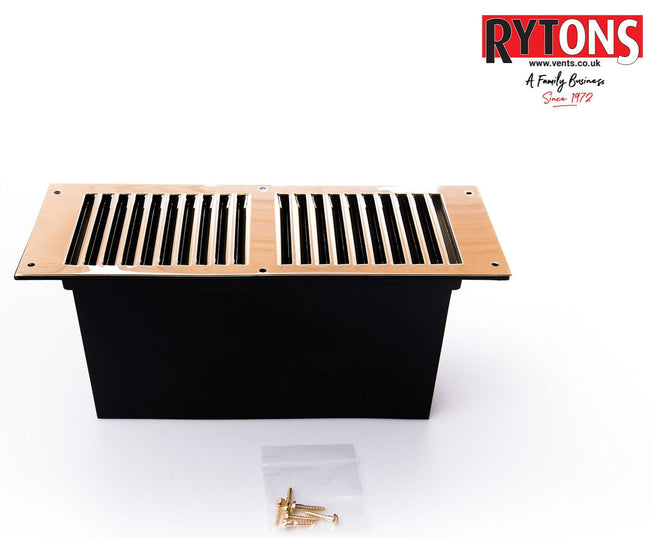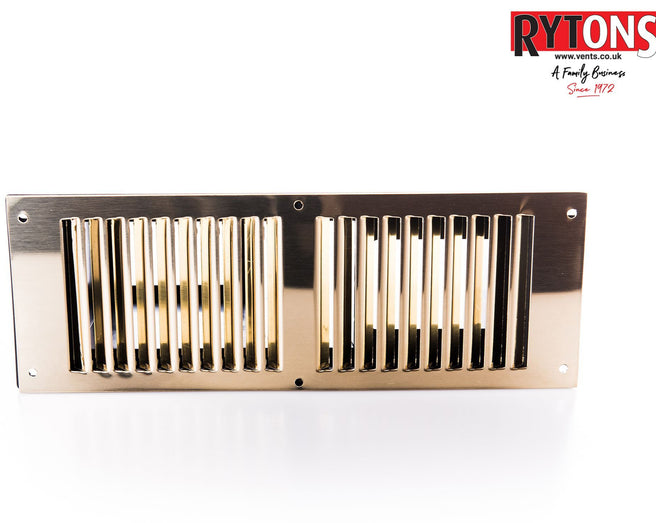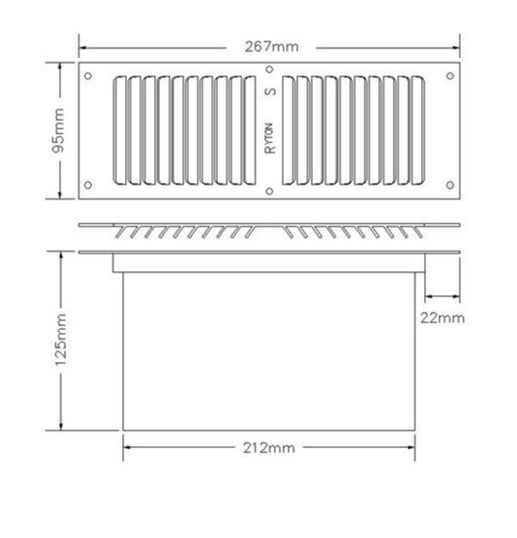 Floor Ventilator - Brass
£26.00
Room ventilator utilising air from a ventilated sub-floor void.
Mirror polished solid brass louvre grille provides a stylish appearance.
Inverted louvres give a flush finish.
Brass coloured screws included.
Size: 267mm L x 95mm H x 125mm D (see image gallery above).
Free Area: 11,000mm² (110cm²) per set.
Louvre grille: Polished brass.
Sleeve: Black.
Louvre grille: 1mm thick half hard solid brass.  Melting point: Approximately 900°C.
Sleeve: Polypropylene (contains recycled plastic).
Cut an opening in the floor and insert the sleeve (sleeve can be trimmed with a fine tooth saw to reduce the depth if required). Fasten the louvre to the sleeve through the pre-formed holes using the screws provided. Peel off the protective film.
Note: When installing in an uncarpeted floor the flange may be trimmed and the louvre ventilator screwed to the floor to maintain as flush a finish as possible.
Important: In areas where radon gas has been identified as a problem, ventilation shall not be taken from the space below ground floor level (e.g. using a floor vent), or interfere in any way with any remedial measures already in place to prevent radon gas entering the habitable part of the dwelling.
Box quantity: 1 set.
Box size: 28cm W x 11cm H x 14.5cm D.
Box weight: 0.39kg.
The Building Regulations, Approved Document J.
The Building (Scotland) Regulations, Mandatory Standard 3.21.
The Building Regulations (Northern Ireland), Technical Booklet L.
British Standard BS 5440-2.
For venting decorative fuel effect gas fires refer to British Standard BS 5871-3.
expand_less
expand_more
Customer Reviews