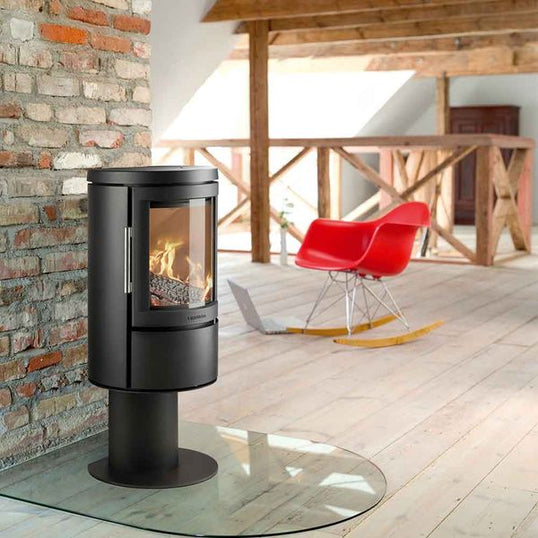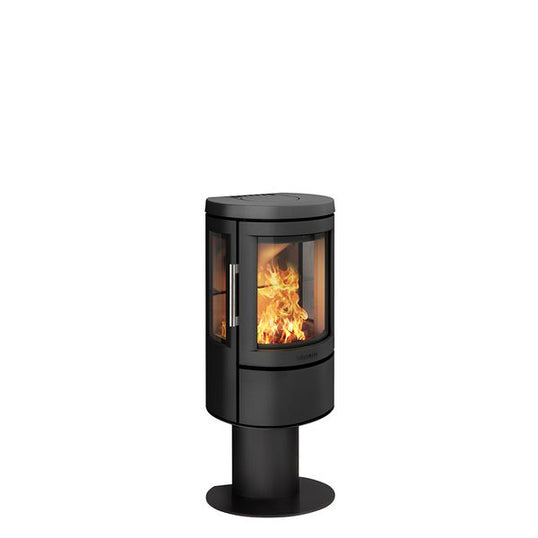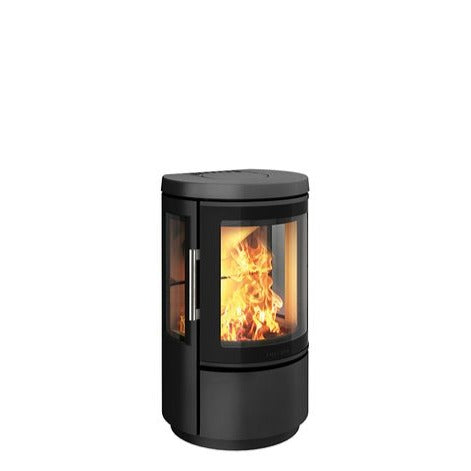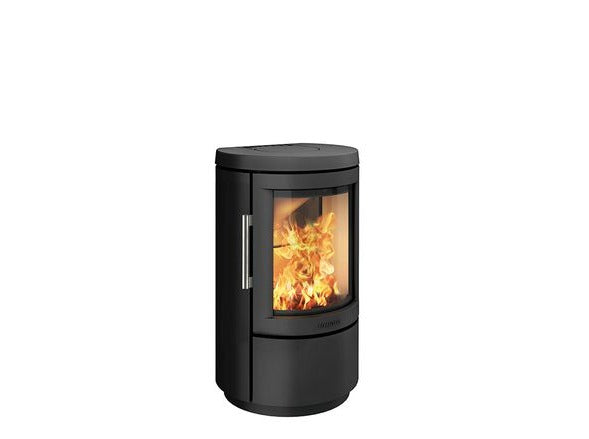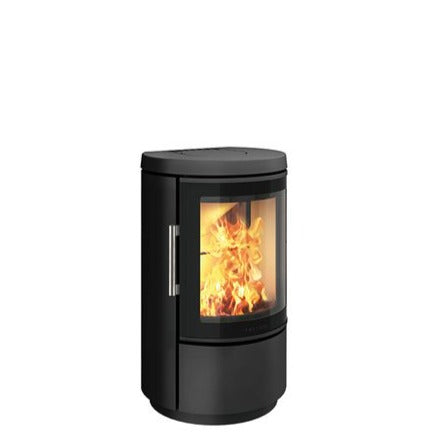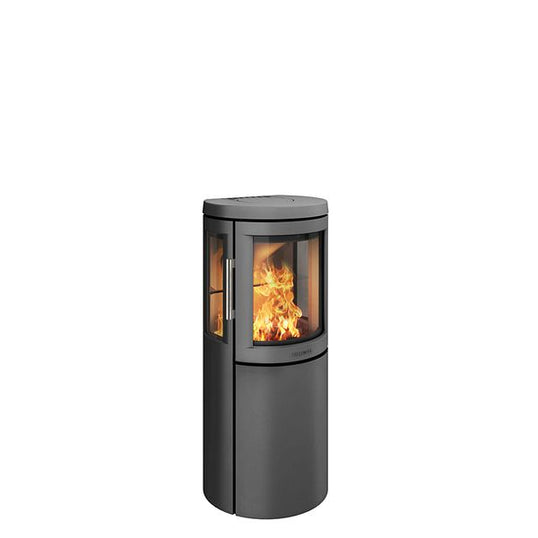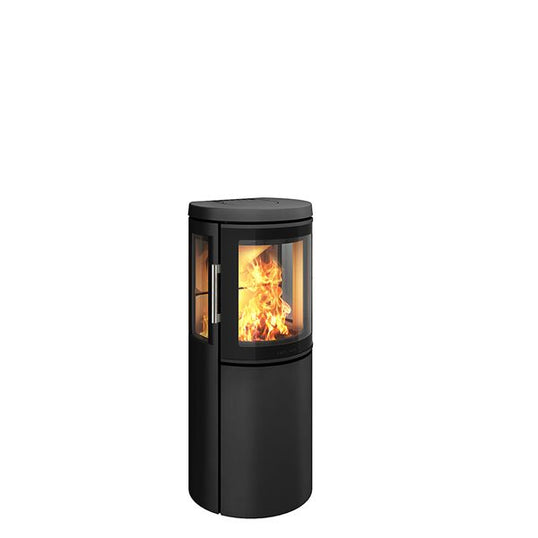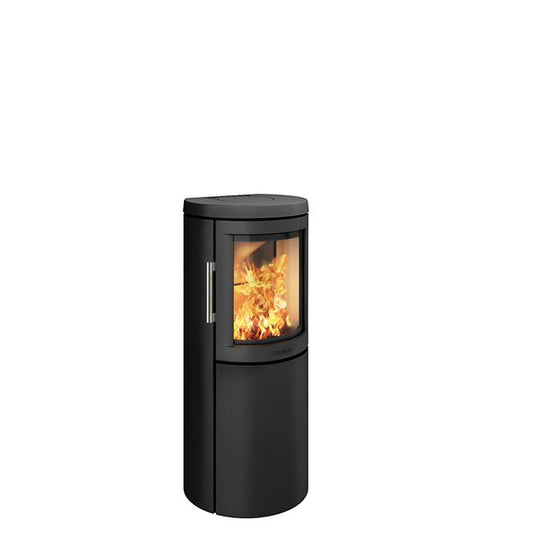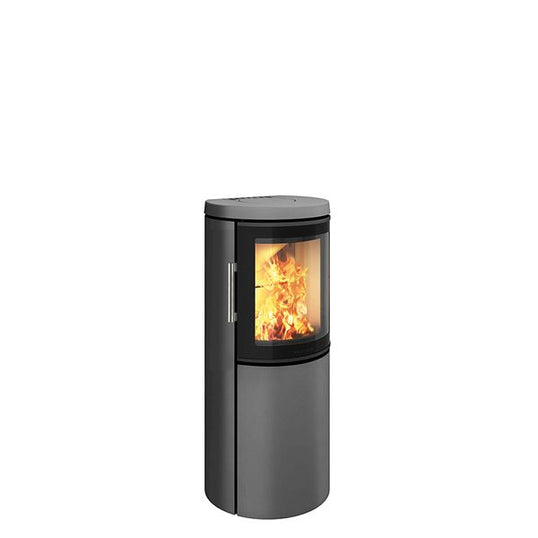 HWAM 2600 Stove
From £2,437.00
With the HWAM 2600 series, the Danish designers Henrik Sørig and Tobias Jacobsen have created another beautiful stove series which is grand in elegance yet small in size. The air-wash system keeps the glass clean and ensures that the fascinating fire can be enjoyed through the curved glass pane in the cast-iron door.
Options:

HWAM 2620 - Available on a pedestal, plinth or as wall mounted

HWAM 2620c (classic door) - Available in grey or black steel

HWAM 2620m (modern door) - Available in white, grey or black steel.
Steel Colour
Technical data
Energy efficiency class HWAM® Autopilot™
HWAM® Autopilot™ : Yes
Capacity (kW) : 2-6
Nominal heat output (kW) : 4,5
Smoke outlet, Ø (mm) : 150
Chimney draught, recommended (Pa) : 12
Combustion chamber width (cm) : 27
Height (cm) : 70,0
Width (cm) : 43,0
Depth (cm) : 36,7
Weight(kg) : 64

Weight pedestal(kg) : +15
OUTLET CONNECTION, MEASSUREMENTS, AUTOPILOT/AUTOPILOT IHS 
Connection from lower edge of the stove, top (cm) : 65,1/ -
Connection from wall to center of top outlet, wall-mounted (cm) : 18,9
Connection from floor with plinth, top (cm) : 68,1/ -
COMBUSTION AIR SYSTEM
Combustion air system can be mounted, back (Ø 100 mm) : Yes
Combustion air system can be mounted, floor (Ø 100 mm) : Yes
DISTANCE TO INFLAMMABLE MATERIALS
Distance to inflammable materials, back (cm): 19
Distance to inflammable materials, side(cm) : 36
Distance to inflammable materials, front(cm) : 80
Distance to inflammable materials, corner location (cm) : 34-56
All dimensions in connection with corner installation are only recommendations. Contact your chimney sweep for a clarification.
Distance to furnishing in front (cm) : 80
EFFICIENCY, AUTOPILOT/AUTOPILOT IHS
Efficiency, gross/net (%) : 80,3/ -
APPROVALS
EN 13240 (Europa) : Yes
Art. 15a (Austria) : Yes
NS 3058/3059 (Norway) : Yes
The stove announcement (Denmark) : Yes
LRV (Switzerland) : Yes
BImSchV Stufe 2 (Germany) : Yes
Exempt under the Clean Air Act (UK) : Yes
HETAS registrated (UK) : Yes
EcoDesign 2022 (EU) - HWAM® Autopilot™ : Yes
Declaration of Conformity - wood-burning stove with HWAM® SmartControl™
expand_less
expand_more
Customer Reviews